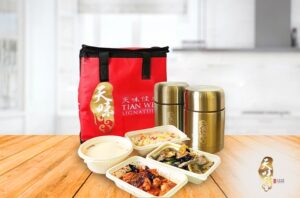 There's a lot that goes into a confinement period. Mothers will take this time to rest and recover from the physical as well as mental exertion of giving birth. This can also be a confusing time as there are a lot of myths and misconceptions surrounding this phase in a new mummy's life.
In our article today, we will be looking at one aspect of confinement that often gets emphasised on and, sometimes, catches a lot of flak – confinement food.
It's not often that we come across confinement food that's exciting, mouth-wateringly delicious, and less often do they come with the term "fusion" attached to them.
Yes, you may have heard of the confinement food delivery provider that we're introducing today – Tian Wei Signature!
In a world where confinement food is usually branded with labels like "bland" and often gets the same reaction of "Huh? That dish again ah"?
Tian Wei Signature has carved a niche for themselves in positioning their menu in the refreshing light of being a fusion of Mediterranean and Japanese confinement food.
Of course, there are also a number of iconic traditional Chinese confinement dishes on their menu. After all, no confinement is ever complete without at least some form of ginger, vinegar, chicken, pork, trotters, or black fungus making an appearance.
As the leading confinement food caterer in Singapore, Tian Wei Signature has plenty of benefits to offer postpartum mothers. Here are the top 5 of them:
1. Fusion Confinement Food
We really can't stress this enough. Just how many confinement food providers do you know of who can pull off fusion confinement food? It really takes a level of creativity and real mastery of one's craft. Think about it, you would have to know more than one cuisine inside out AND then combine them together. Even that is a very basic description of what they are doing with their menu over at Tian Wei Signature.
Us trying to describe it just does not begin to describe how they are able to utilise everyday ingredients that are commonly used in traditional Chinese confinement food, but turn the other direction and head for an entirely different style of cooking.
From the menu we were given, we can see a variety of meat and vegetables that we recognise are from traditional confinement meals, but the way they have prepared it for us here gives it a unique Mediterranean and Japanese infusion of cooking styles.
This is a really interesting take on how one can take everyday ingredients and incorporate different techniques which will definitely help keep your daily confinement meals interesting. What we found more impressive about this is that all their dishes (fusion and traditional) are reviewed by their dietitian in order to ensure you are getting a nutritious, well-balanced diet which supports you in breastfeeding.
One of their most popular dishes is the Seared Salmon with Cauliflower Cream. The highlights are the salmon, broccoli, and cherry tomatoes that are high in Vitamin C which promotes wound healing (in addition to being absolutely delicious)!
2. Dietitian-guided Menu
We touched on this in the earlier paragraphs, but let's go more in depth here. Tian Wei Signature doesn't merely cook meals that they think would be a hit with mummies, no, there's a good deal more that goes into their cooking.
They have a professionally certified in-house dietitian who works closely with the head chef in curating everything that's on their menu. From the ingredients that they will be using, right down to the proportions and nutritional value, they are dedicated to ensuring that you are getting all the nutrients that you require for recovery and support that you need in breastfeeding (which brings us to the next point).
3. Breastfeeding-friendly Ingredients
With the incorporation of what they call "lactogenic" ingredients like fenugreek, ginger, garlic, and green papaya, Tian Wei Signature meals can help support mummies who are in need of a helping hand when breastfeeding their newborn.
Whether it's the old-school Braised Pork Trotter in Black Vinegar, their ever popular Fenugreek Green Papaya Milky Fish Soup, or the Fortune Herbal Chicken, they do their best to ensure there's something for your discerning palate as well as for your little one.
4. Free Hot Box Electric Food Steamer
On top of the support for your breastfeeding and the convenience of having your meals cooked for you and delivered to your doorstep during your confinement, customers who booked the Tian Wei Signature 14 Days Double Meals Package and above are given a FREE Hot Box.
Yes, that's right, you heard us, it's an electric food steamer that you can plug in and it'll heat up your food. Their hot box could heat up 3 dishes in just 10 minutes. This is particularly useful if you're sneaking in some work while at home and forget to eat your Tian Wei Signature meals as soon as they are delivered. You can always then just pop them in the hot box and presto, hot meals in a jiffy!
Using it is particularly simple too. Fill up the base with a cup and a half of water, place your meals in and ensure that it's properly fastened to the supports then plug in to power up the box and heat up your meals. It's a three tiered box, so you can place three dishes in each compartment.
5. Convenient Meal Preference Adjustments
Now, at this point, you might be wondering – "what if I don't like certain ingredients or can't have certain ingredients"?
There's some good news here too, in fact, customers who have dietary restrictions can choose to opt-out from having certain ingredients, such as innards, chicken, eggs, or certain vegetables.
Say that you prefer not having eggs, just inform them and they will leave out that particular ingredient from your meal. However, their entire menu revolves around the premise of providing you a balanced and nutritious diet. Taking out any or some of the ingredients may deprive you from the full benefits that come with their confinement food.
Closing Words
As promised, those are the 5 top perks mothers get with Tian Wei Signature's confinement food delivery. Seriously, you can stop Googling "confinement delivery Singapore" now. We've just given you the answer.
If you're interested in getting to know them better, ring them up at +65 6727 5599, or drop by their website to look through their packages and, maybe, book your own package!