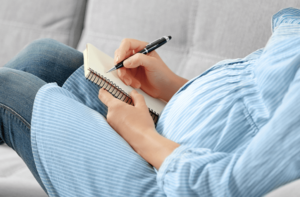 Breathe.
In…and…out.
Breathe slowly.
In…and…out.
Alright, that's Lamaze checked, what's next. Yes, yes, we know there's a lot more to Lamaze than just simple breathing in and out, but we're a bit short of time here and need to cover a lot of things and considering that you're going to deliver, we're going to have a bit of a speed run through some things you'll be needing.
For simplicity's sake, let's separate out this article into before childbirth and after childbirth. Oh, you thought that all your worries would stop after you've pushed that melon out? No, not in the slightest. In fact, it's no exaggeration to say that, as parents, your worries have only just begun. We'd insert an evil laugh here were it not for the fact that we know that truth all too well and we can attest to how difficult everything is; whether it's pregnancy, childbirth, or watching your little one tumble on gravel and skin their knees, it never gets any easier.
You might argue that things will get easier once they're adults, but, honestly, you've heard the old Chinese saying that parents will always worry about their kids, right? No matter if they're 6 years old or 60, a parent will always worry about their child, granted the worries will be different based on what stage of life the child is in, but the worrying will always be a constant.
Now, without further ado, let's do further and get a move on to our first item on the checklist:
BEFORE CHILDBIRTH
Yes, we've covered Lamaze and, if you've been to an OBGYN at any point during your pregnancy, you'd have also been recommended to take some Lamaze classes to better help you in preparation for the impending delivery.
What would be good at this point is also having some room or place set up and ready to receive the new addition to the happy family. Yes, we're talking about a nursery or baby room. If you haven't gotten one yet, now's the best time to get one ready because, well, it might be a tad too late to start once the baby's already here.
Speaking of a safe space for the new one, how safe is your house? Have you baby proofed everything that could potentially hurt a baby? Sharp edges of cabinets, open plug sockets, stray knives that could easily be gotten at, unsupervised NERF guns laying about all over the house, etc.
Now, now, we know that those two things are easier said than done and it's a monumental task to settle overnight. How about you assign it to the hubby while you take some time for yourself. All that stress isn't going to help you one iota. What might help you at this point to destress is to go pamper yourself.
Yeah, yeah, we know that you're not supposed to be out too long and aren't supposed to be standing all that much. What if we could tell you of a way to enjoy some spa-like relaxation all from the comfort of your own home? That way, you can relax while monitoring your hubby's progress on that baby room and in baby proofing the whole place.
Go on, you know you deserve it. After all, it'll be hard to find time for yourself after the child is born, right? That's why we're happy to let you in on a special company called PNSG. This is a company specialising in authentic traditional massage therapy that's got packages for both pregnant mummies as well as mummies who have given birth.
PNSG
They've been in the business for well over a decade now and have been honing as well as perfecting the craft of massaging mummies. With an impressive clientele spanning both pregnant and non-pregnant mummies, their masseuses all undergo rigorous and highly specialised training to ensure that your aches and pains are dealt with at no added risk to either you or your little one.
Got back aches, they can handle it. Got water retention, they got you covered. Got a hankering need for a slimming package, they have it all. Best part of it is – you don't need to walk all that much. In fact, you don't have to walk at all. That's right, just book an appointment and they'll send the nearest massage therapist to your address and voila, you can enjoy spa-esque levels of relaxation and enjoyment all from the comfort of your own home. Now that quip about being able to keep an eye on your hubby's progress with the baby room and baby proofing makes more sense, right?
Now, in case you missed it earlier, we mentioned that they have packages for prenatal massages, but they also have packages for postnatal massages too. That's where instead of Googling for "Massage pregnancy", you start looking for a massage after your delivery.
Their masseuse and clients who have reviewed their services have claimed that it helped them with post-deliver recovery and has helped them recover their figure close to what they had prior to pregnancy. If all this has piqued your interest, feel free to drop by their website and learn more about their packages today!
Speaking of which, that transition has brought us neatly into:
POST CHILDBIRTH
So, what have you gotten ready for after your child is born? Are you going to call on the in-laws to help out while you're in confinement? Are you going to work from home? Who's going to help you do the laundry? Who's going to help you with the meals?
You know what, let's help you out here with two more recommendations – PEM & Tian Wei Signature.
PEM
We start off with this absolute legend in confinement circles. With over 30 years of experience, they sure know a thing or two about taking care of mummies in confinement.
We've all heard of the excellent training afforded to these confinement nannies under the PEM banner. They're able to coach mothers on babies' crying cues, latching techniques for breastfeeding, baby care, confinement care cooking, and they're even able to offer their own gems of wisdom garnered over the decades of helping mummies all across Singapore. This brings us to the next point that they're able to help mummies all across Singapore because they are able to handle all the paperwork and headache that's required to navigate for a confinement nanny work permit in this country. So, don't worry, they will take care of everything for you while the only thing you have to take care of is taking care of yourself!
Tian Wei Signature
Hey, where there's confinement, there's confinement meals, right, mummies? Sure, you can discuss it with the confinement nanny to help cook meals for you and your family, but wouldn't you rather have a professionally certified dietitian planning out your meals to ensure that you get all the nutrients that your body needs to recover?
Not only that, while the dietitian plans it all out down to the calorie, their award winning chef will cook up a storm that'll excite and delight your palate. That said, you'll have a balanced and nutritious meal which you'll love. From classics like the Pork Trotter in Vinegar to exotic fusion favourites like their Coq Au Vin, getting a confinement meal in Singapore doesn't have to be boring or bland any longer.
All in all, if you follow our advice, that checklist will start to look a lot easier and you will truly be prepared going into delivery and for what comes directly after.